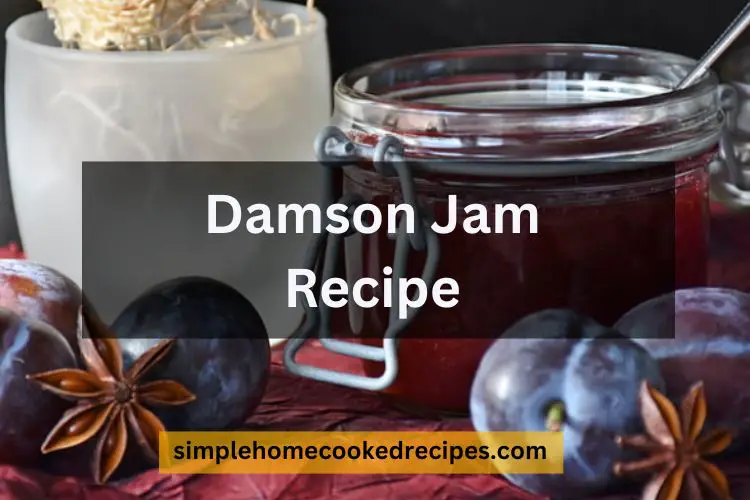 Looking for the perfect Damson Jam recipe? Look no further! This recipe is simple, quick, and produces a delicious jam every time. The Damson fruit is a small, dark blue plum that is used to make this particular jam. It can be a little tricky to find in stores, but it is definitely worth the search!
Making your own Damson Jam is easier than you think and the results are delicious. This recipe will show you how to make a perfect jam every time. The Damson plum gives this jam a unique flavor that will impress your friends and family.
Best Damson Jam Recipe Overview
Damson Jam Perfect is made from hand-picked wild damsons, sugar, and lemon juice. The jam has a rich and tart flavor with a thick texture, making it the perfect addition to any breakfast spread or baked good.
The jam takes about 45 minutes to prepare and cook, and should be left to sit for at least a week before enjoying to allow the flavors to fully develop.
If you are wondering how many damson fruits do you need to make a jar of damson jam then it depends on the size of your damson fruits, but we recommend using at least 2- 3 pounds for a standard 10-ounce jar.
When it comes to serving suggestions, Damson Jam Perfect pairs beautifully with sharp cheeses or spread onto warm scones or biscuits. Add a dollop to your yogurt or oatmeal for a delicious and fruity breakfast, or use as a glaze for meats like pork chops or ham.
Also Read: Mary Berry's Shortcrust Pastry Recipe
Details
Preserve Time Before Eat
1 week
Nutrition Facts
---
Amount Per ServingCalories1200
% Daily Value *
Total Fat 25g

39

%
Sodium 163mg

7

%
Total Carbohydrate 300g

100

%
Protein 0.5g

1

%
---
* The % Daily Value tells you how much a nutrient in a serving of food contributes to a daily diet. 2,000 calories a day is used for general nutrition advice.
Key Ingredients
2-3 Pounds of damson plums (No stones)
2 kg sugar
400ml water
A small stick of butter
Instructions
In order to make the perfect damson jam jar, you will need to follow the following method.
Step 1
The first step is to take the jars you're going to be using and cleaning them. To do this you will need to place them in hot, soapy water. After this is done, you will need to place the lids and the jars on a baking tray.
Place the tray into an oven with low heat for approximately 10 minutes or until they're completely dry. If you plan on using any funnels or ladles, sterilize them too.
Step 2
The next step is to wash and wipe the damsons and then removing the stalks. Next, place them in a large saucepan with water and let boil. Lower the heat and simmer till the plums are soft and malleable.
Once this has been accomplished, press the fruit against the sides of the pan to rid it of the stones. Use a spoon to remove the stones from the pan.
Step 3
Continue to simmer till the jam mixture has reduced by about half.
Step 4
Add the sugar to the mixture while on low heat till it has dissolved. If the sugar does not dissolve, the bottom of the pan might burn. Then, bring the jam to a rapid boil for 10 minutes.
Step 5
Check to see if the setting point of the mixture has reached 105 C. If you don't have a thermometer available, scoop some of the jam out and let cool for a few seconds. If the jam wrinkles when you push it with your fingertips, it's ready.
If it does not wrinkle, cook for a few more minutes and test again. Once the setting point has been reached, stir the jam rigorously.
Step 6
Next, remove the mixture from the heat and remove any excess scum. Then, stir a knob of butter into the surface of the mixture which will help to dissolve remaining scum.
Step 7
Leave the fruit to set to avoid the fruit sinking to the bottom. Pour the mixture into sterilized jars. Label and, finally, seal.
Also Try: Strawberry Jam Recipe Mary Berry
Also Try: Delicious Plum Jam Recipe Mary Berry For Light Snacking
Frequently Asked Questions
Here are some of the most frequently asked questions that you might be interested in knowing more about.
Do damsons contain pectin?
Damsons are very full of pectin which means you do not need to worry about having a tough time making it into a jam. The pectin makes it the perfect fruit for jam and jelly making.
How long does damson jam keep?
If the jam is properly jarred, it should last in a cool place for around a year. Do ensure that you look for possible growth of mold when opening a new jar. The jam may start to deteriorate around 12 months but is usable even after!
Can you make damson jam with the stone still in?
The answer is yes, but some may argue that it can negatively affect the texture and taste of the jam. Leaving the stone in will result in a firmer jam with a slightly bitter aftertaste.
Can honey replace sugar in the jam?
Honey can absolutely be used as a substitute for sugar when making damson jam. Instead of using 1.2 kg of sugar, use around two spoons of honey.
Can you over boil jam?
If your jam is rock solid, you have overcooked it. You may add water, but it will be tough to get the fruit flavors back.