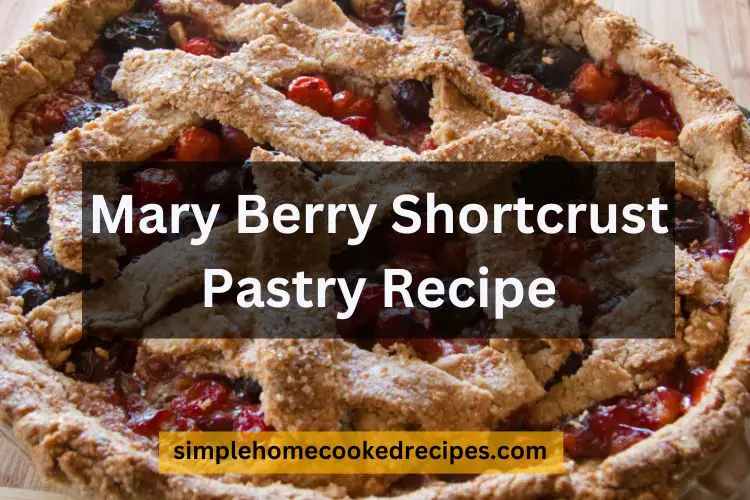 After dinner, everyone craves something sweet to end their day. Many people refrain from eating something too sweet. This is when a shortcrust pastry comes in to save the day. You can eat shortcrust pastry as it is or add filling of your choice.
You can even make this pastry for picnics or any other event. If you want to make a shortcrust pastry for your family, here is an easy Mary Berry recipe.
Mary Berry Shortcrust Pastry Recipe Overview
The preparation time for the shortcrust pastry is around an hour and fifteen minutes. In addition, the cooking time is only fifteen minutes. Preparing and baking the pastry will take you around one hour and fifteen minutes.
The recipe will serve six to eight people, depending on the portion size you cut. This makes it a perfect dish, and you can even fill it with your favorite fruit filling.
Nutrient Information
Total Fat: 43g
Saturated Fat: 26.4g
Cholesterol: 178mg
Sodium: 295mg
Total Carbohydrates: 89.2g
Dietary Fiber: 2.3g
Total Sugars: 25.3g
Protein: 10.1g
Nutrition Facts
---
Amount Per ServingCalories786
% Daily Value *
Total Fat 43g

67

%
Cholesterol 178mg

60

%
Sodium 295mg

13

%
Total Carbohydrate 89.2g

30

%

Dietary Fiber 2.3g

10

%
Sugars 25.3g

Protein 10.1g

21

%
---
* The % Daily Value tells you how much a nutrient in a serving of food contributes to a daily diet. 2,000 calories a day is used for general nutrition advice.
Ingredients
500 grams of all-purpose flour
2 egg yolks
2 tbsp milk
300 grams of unsalted butter
150 grams of icing sugar
1 tbsp vanilla extract
Instructions
1. Initially, you would need to prepare the dough for the pastry. Start by placing a large bowl on the kitchen counter. Create a mixture of all-purpose flour and icing sugar. Make sure the mixture is combined properly.
2. Cut butter into small pieces and add to the flour and icing sugar mixture. Mix flour and sugar with butter until the mixture resembles breadcrumbs.
3. Add the egg yolks, milk, and vanilla extract to the mixture.
4. Knead the dough for five to 10 minutes until it is smooth. Ensure that the dough is kneaded well before wrapping it in Saran wrap and placing it in the refrigerator for thirty minutes.
5. Once you take out the dough from the refrigerator, place it on a well-floured surface. With the help of a rolling pin, roll the dough around the thickness of 5MM to 6MM. In addition, make sure it is wide enough to fit in a tart pan.
6. Place the dough carefully in the tart pan and press it so it can equally settle down. Poke the dough with a fork. This will ensure that the dough doesn't rise during baking.
7. Cover the dough with baking paper and place some beans to weigh the dough. Set the oven to 1800C and bake the dough for ten minutes.
8. After ten minutes, remove the beans and baking paper and bake for another five minutes.
9. Once baked, take the pastry out of the oven and let it sit for five to ten minutes for it to cool down. Remove the tart pan, and you will have yourself a tasty shortcrust pastry.
Also Read: Amazing Mary Berry Maids Of Honour Recipe That Everyone Will Love
Frequently Asked Questions
Here are some of the top frequently asked questions regarding our Mary Berry Shortcrust Pastry recipe:
Can We Eat Shortcrust Pastry Without Any Filling?
Yes, you can eat the shortcrust pastry without any filling of your choice. Many people bake the pastry to make a pie for themselves. However, if you don't want to eat something too sweet, you can always go for a slice of Mary Berry shortcrust pastry.
Can You Add Flavors To The Shortcrust Pastry?
If you want to boost the flavor of Mary Berry shortcrust pastry, you can definitely add flavor to the dough. It would be best to add the flavors in liquid form.
This would not cause any problems when kneading the dough. Many people add banana or strawberry pieces, but that can affect the crispiness of the pastry. Fruit pieces add moisture to the dough.
Why Is It Called Shortcrust Pastry?
The reason why it is called shortcrust is that the crust of the pastry is comparatively short in size compared to a deep pan pie. The reason why the crust is short is as you bake it in a tart pan.
Can You Store The Shortcrust Pastry In Refrigerator?
You can store the shortcrust pastry in the refrigerator. But that would be helpful if you want to add filling later and bake it for a few minutes to warm it up.
However, if you want to eat the pastry as it is, storing it in the refrigerator would affect the freshness and crispiness of the dough.
If you are a pastry lover you can follow Simple Home Cooked Recipes for more delicious recipes.