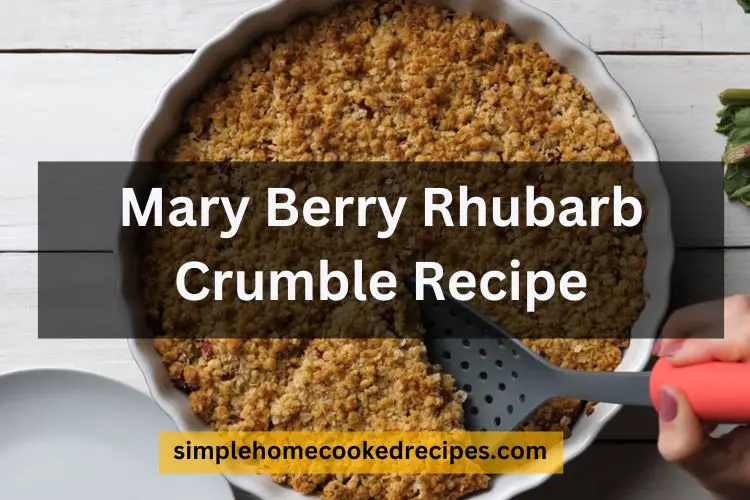 Mary Berry rhubarb crumble is one of the most delicious recipes you can try in the fall and winter. The recipe will warm your heart and stomach as you and your family indulge in it. It is one of the top comfort foods that you need to create at least once when the weather calls for it.
So, if you want to create a delicious rhubarb crumble, you are in the right place. Here is a complete Mary Berry rhubarb crumble recipe for you.
Mary Berry Rhubarb Crumble Recipe Overview
The cooking time and total baking time of this recipe is only thirty-five minutes. You will be able to create it with ease as you follow the instructions. The recipe will also easily serve between six and eight people.
Even if you have never cooked anything before, this recipe is easy to follow. It is a traditional Mary Berry rhubarb crumble that will be a comforting treat for you whenever you want. You can also serve the crumble with custard if you wish.
Nutrition Facts
---
% Daily Value *
Total Fat 7.6g

12

%
Cholesterol 16mg

6

%
Sodium 154mg

7

%
Total Carbohydrate 52.2g

18

%

Dietary Fiber 2g

8

%
Sugars 22.7g

Protein 1.4g

3

%
---
* The % Daily Value tells you how much a nutrient in a serving of food contributes to a daily diet. 2,000 calories a day is used for general nutrition advice.
Rhubarb Crumble Recipe Ingredients
165g of demerara sugar
245g of self-raising flour
60g of margarine
60g of unsalted butter
1 tsp of vanilla extract
700g of fresh rhubarb
2 tsp of caster sugar
Serve it with cream or custard
Rhubarb Crumble Recipe Instructions
1. Begin creating the crumble mixture by sifting the flour in a large bowl. You must add the sugar and keep mixing well.
2. Add margarine, butter, and vanilla extract.
3. Keep mixing using your fingertips until the consistency is of fine crumbs.
4. Place the mixture inside the fridge to let it cool.
5. Preheat the oven to 200C. If you are using a gas oven, you can use the mark of six.
6. Mix the sugar and rhubarb together and place it in an ovenproof baking dish.
7. We recommend that you use a baking dish of 12 x 8 inches.
8. Take out the rhubarb and cover it with the chilled crumble topping.
9. Place it in the oven and cook it for thirty-give minutes until you notice that it is golden-brown.
10. You can serve the crumble with custard or cream, depending on what you prefer.
Also Read: Mary Berry Macaroons Recipe For A Delicious Light Snack
Frequently Asked Questions
Here are some frequently asked questions regarding the Mary Berry rhubarb crumble:
Can I Use Frozen Rhubarb?
Yes, you can also use frozen rhubarb for the recipe if there are no fresh ones available in your region. The secret is to let the rhubarb defrost properly before you use it for your recipe. You can also freeze the rhubarb crumble for later consumption.
Should I Peel The Rhubarb For Crumble?
You don't need to peel rhubarbs to use them for crumble. Instead, you only require a sharp knife to chop the rhubarb stalks and use them for your recipe. The knife will ensure the elimination of any strings that might come from the stalks.
Why Is My Rhubarb Crumble Soggy?
There might be a few reasons that your rhubarb crumble is soggy. For example, the rhubarb will begin releasing juices as soon as you mix it with sugar. That is why it is always recommended to mix the rhubarb and sugar right before you bake it as the fruit has a lot of moisture.
How Can I Keep The Crumble Topping Crunchy?
If you love the crunchy texture of the rhubarb crumble, then you can keep it crunchy by double0baking the fruit. It will help you retain the crunchy texture and the topping will not get soggy at all. So, you can try baking it twice for the best results.
How Do You Know When Crumble Is Done?
You will know a rhubarb crumble is done when the fruit juice stars bubbling around the pan edges. The topping will also be firm when you touch it. After you are done, we recommend that you let the crumble cool for at least fifteen minutes before you serve it to your family or guests.