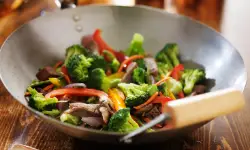 Stir-fry
Stir Fry is a Chinese cooking technique in which ingredients are fried in a small amount of very hot oil while being stirred in a wok. The technique originated in China. Stir fry cooking came to predominate over the course of the century as more people could afford oil and fuel, and in the West, spread beyond the Chinese communities.
Stir-frying and Chinese food have been recommended as both healthy and appealing for their skilful use of vegetables, meats, and fish which are moderate in their fat content and sauces which are not overly rich, provided calories are kept at a reasonable level.
The English language term "stir-fry" was coined by Y.R. Chao in Buwei Yang Chao's book How to Cook and Eat in Chinese (1945), to describe the chǎo technique.
---