Beer can chicken is an excellent dish that can help you offer a new but delicious dish to your guests or loved ones. If you want to know how to make this item using a John Torode recipe in the UK, you're in the right place. Here is what you must know.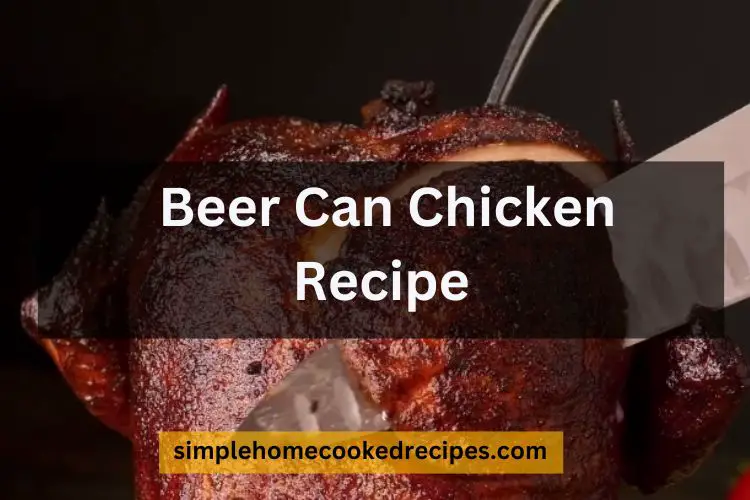 Overview Of John Torode Beer Can Chicken Recipe
Here is an overview of the John Torode beer can chicken recipe:
Details
Cooking time
1 hr. 30 Minutes
Nutrition Facts
---
Amount Per ServingCalories734
% Daily Value *
Total Fat 35.1g

54

%
Cholesterol 41mg

14

%
Sodium 1059mg

45

%
Total Carbohydrate 82.8g

28

%

Dietary Fiber 13.1g

53

%
Sugars 20.2g

Protein 27.7g

56

%
---
* The % Daily Value tells you how much a nutrient in a serving of food contributes to a daily diet. 2,000 calories a day is used for general nutrition advice.
Ingredients For John Torode Beer Can Chicken Recipe
Large whole chicken – 1
Beer can – 1
Sliced lemon – 1
Salt – 1.25 teaspoons
Pepper 1.25 teaspoons
Chopped parsley – 1 handful
Sumac – 1 teaspoon
Crushed garlic cloves – 2.5
Dijon mustard – 60 grams
Vegetable oil – 1.5 tablespoons
Brown sugar – 1.25 tablespoons
Smoked paprika – 1.25 tablespoons
Ground cumin – 1.25 teaspoons
Garlic powder – 1.25 teaspoons
Mustard powder – 1.25 teaspoons
Cayenne pepper – 0.5 teaspoon
Chilli powder – 0.5 teaspoon
Olive oil – 5 tablespoons
Shredded cabbage – ½
Black pepper – 1 pinch
Parmesan shaving – 60 grams
Peeled large potatoes (cut in half) – 7
Instructions For John Torode Beer Can Chicken Recipe
Here are the steps you must follow for the John Torode beer can chicken recipe:
Prepare seasoning mix by adding salt, pepper, parsley, sumac, and crushed garlic in a bowl
Mix the ingredients properly, and then use a tablespoon to place the mixture inside the chicken cavity
After adding the powdered seasoning, add sliced lemon pieces inside the cavity and place the chicken horizontally on a tray
Take out mustard in a bowl, add vegetable oil to it, and mix the ingredients
Use another clean bowl to prepare the spice mix for the chicken
Add brown sugar, paprika, cumin, garlic powder, mustard powder, cayenne pepper, and chilli powder in the bowl. Mix all the spices
Wear a glove on one of your hands and use that hand to rub the chicken with the mustard
Then take the spice mix bowl and a handful of the mixture you formed to rub the mustard chicken with the spices. It will take a few turns to completely use the mixture
Let the marinated chicken stay in the fridge overnight
The following day, keep a half-filled beer can on your baking tray and fit the chicken on it
You should place the chicken properly so that the can is within the cavity of the beer
Preheat your oven
Place the cut potatoes on the side of the chicken in the tray
Put the baking tray in the oven and let the dish cook for 1 hour and 15 minutes at 200 degrees
Take olive oil, cabbage, and pepper to form a quick slaw. Add parmesan shavings to it
Once the chicken is cooked, let it rest and then carve it before serving
Pro Tips: Make sure the can is not half-filled or less with beer because the beverage will not boil in the oven
Nutritional Information
Calories – 734
Total Fat – 35.1 grams
Cholesterol – 41 milligrams
Sodium – 1059 milligrams
Total Carbohydrate – 82.8 grams
Dietary Fiber – 13.1 grams
Total Sugars – 20.2 grams
Protein – 27.7 grams
Also Read: Chicken Pie Recipe For True Food Lovers
FAQs
How To Store John Torode Beer Can Chicken?
The best way to store the chicken leftovers is by keeping them in an airtight container. You can store the dish in the fridge for up to three days.
How To Improve The Taste Of Potatoes In Beer Can Chicken?
If you want your potatoes to have a zesty taste, you can take a handful of sumac and rub the powder on your potatoes. Do this before roasting the item in the oven.