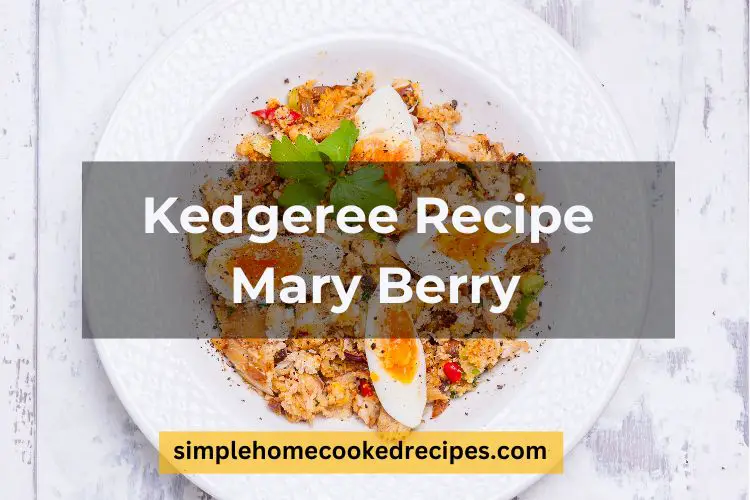 Kedgeree is the British version of an Indian dish known as Khichri. The dish goes back more than a thousand years, and you can make it with fish, eggs, and much more. So, here is a complete kedgeree recipe Mary Berry. 
Everything You Need To Know About The Kedgeree Recipe Mary Berry
The kedgeree recipe Mary Berry will take ten minutes to prepare and half an hour to cook. The dish will be ready in forty minutes, and it will serve between four to six people. 
Pro Tip: Make sure you add soft-boiled eggs to this recipe for a delicious taste. It is one of the top ways to enhance the recipe without doing anything complicated. 
Nutrition Facts
4 servings per container
---
Amount Per ServingCalories920
% Daily Value *
Total Fat 24.2g

38

%
Sodium 5079mg

212

%
Total Carbohydrate 119.4g

40

%

Dietary Fiber 47.4g

190

%
Sugars 65.6g

Protein 57.9g

116

%
---
* The % Daily Value tells you how much a nutrient in a serving of food contributes to a daily diet. 2,000 calories a day is used for general nutrition advice.
Ingredients 
For The Garnish
Half a bunch of chopped coriander
Three soft-boiled eggs 
One thinly sliced large onion
For The Recipe 
100g of sliced button mushrooms 
350g of smoked haddock fillet (skin should be on)
250g of basmati rice
25g of butter
One chopped onion 
Two tablespoons of olive oil
550ml of vegetable stock 
Salt and pepper to taste 
Four tablespoons of double cream 
One teaspoon of ground turmeric
One tablespoon of curry powder
One small lemon (juiced)
Instructions
1. Preheat your oven to 180C or 200C. 
2. Top a baking sheet with a layer of foil. 
3. Put the haddock on the foil with the skin part down. 
4. Put half the butter on the top side of the haddock, season it with salt and pepper, and pack it with foil. Make sure you fold all the edges to seal the packet. 
5. Put the packet in the oven and let it bake for fifteen to eighteen minutes. 
6. Once the fish is cooked, peel the skin and remove all bones. Keep the haddock aside in the foil to ensure it remains warm. 
7. Take a large frying pan and pour half of the oil while keeping it on high heat. Fry the onion in the pan for two to four minutes. Then, add the turmeric, curry powder, and rice, and stir it for one minute to coat the rice. 
8. Add the stock to the pan and keep a lid on it to bring it to a boil, as you let it boil for two minutes. Next, decrease the heat and let the stick simmer for twelve to fifteen minutes. 
9. Turn off the heat. Mix the haddock and the rice for a delicious kedgeree. 
Nutrient Information 
The kedgeree recipe Mary Berry will serve four to six people.
Calories 920 per serving.
Total Fat: 24.2g 
Saturated Fats: 6g
Sugar: 65.6g
Carbohydrates: 119.4g
Dietary Fiber: 47.4g
Sodium: 5079mg
Protein: 57.9g
Also Read: What Is Chip Steak? 7 Mouth-Watering Chip Steak Recipes That Will Leave You Wanting More
Frequently Asked Questions 
Here are some frequently asked questions about this dish:
Can You Eat Kedgeree Cold The Next Day?
Yes, you can consume the kedgeree hot or cold. However, store it in the fridge because room temperature will affect the dish's integrity. 
How Long Will Kedgeree Last In The Fridge?
The kedgeree will last between three and four days in the fridge. Just make sure you keep it inside an airtight container. 
Should I Use Dyed Or Undyed Smoked Haddock?
We recommend using undyed smoked haddock for the best results in this dish. In addition, it will enhance the flavor profile of the kedgeree.