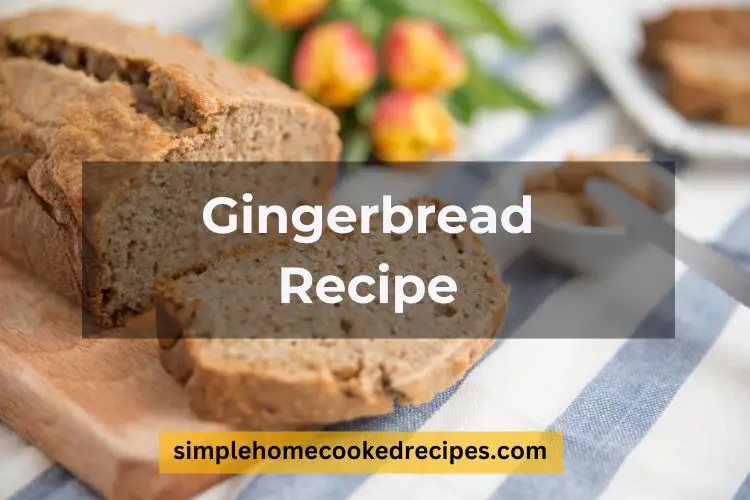 Gingerbread is not just for the festive season because you can create the delicious gingerbread recipe by Mary Berry any time of the year. It is incredibly easy to make, and everyone will love this timeless recipe. So, if you want to create a timeless gingerbread recipe Mary Berry, you are in the right place. 
What You Must Know About The Gingerbread Recipe by Mary Berry 
The gingerbread recipe takes a total of 50 minutes to make. It will take you fifteen minutes to prepare the ingredients and thirty-five minutes to cook this recipe. It will also serve twenty-four people, as you can cut it into 24 pieces. 
Nutrition Facts
---
Amount Per ServingCalories92
% Daily Value *
Total Fat 3.1g

5

%
Sodium 86mg

4

%
Total Carbohydrate 15.2g

6

%
Protein 1.5g

3

%
---
* The % Daily Value tells you how much a nutrient in a serving of food contributes to a daily diet. 2,000 calories a day is used for general nutrition advice.
Ingredients 
75g of diced butter 
200g of self-rising flour
75g of golden syrup 
75g of black treacle 
One teaspoon of soda bicarbonate 
One teaspoon of mixed spice 
Two tablespoons of ground ginger 
75g of muscovado sugar
250ml of milk (full-fat)
One beaten egg 
Instructions
1. Preheat your oven to 160C or 180C. 
2. Line a baking dish of 9 by 12 inches with a baking sheet. 
3. Take out a large mixing bowl and add the ginger, flour, mixed spices, and soda bicarbonate. 
4. Put a small saucepan on gentle heat and let the syrup, butter, sugar, and treacle mix until the butter melts. Once it does, you must set the pan aside so it can cool down. 
5. Pour the saucepan mixture inside the mixing bowl with the dry ingredients. 
6. Add the egg and beat it all until everything is combined. Next, slowly pour the milk into the batter until it is soft and smooth. 
7. Pour the batter into the baking dish and let it bake for thirty-five minutes. The cake should be a little bouncy when you touch it. 
8. Take out the cake, let it cool, and cut it into twenty-four pieces. 
Also Read: Mary Berry's Delicious and Mouth-Watering Carrot Cake Recipe For Carrot Lovers
Pro Tip: You can top the gingerbread with some vanilla icing if you want to boost the flavor and add some creaminess to the cake. You can easily create vanilla icing at home and spread it over the cake. If you are serving this to kids, you can also top it with sprinkles or festive decorations. 
Nutrient Information 
The gingerbread recipe Mary Berry will serve twenty-four people. Each square will have 92 calories. Here is the rest of the nutrient breakdown:
Total Fat: 3.1g
Saturated Fats: 1.8g
Sugar: 6.3g
Carbohydrates:15.2g
Dietary Fiber: 0.3g
Sodium: 86mg
Protein: 1.5g
Frequently Asked Questions 
Here are some of the frequently asked questions about the gingerbread recipe Mary Berry:
What Can I Eat With The Gingerbread?
The gingerbread pairs perfectly well with tea, coffee, and other items you can consume in the evening. Besides that, it will also pair well with other types of desserts. So, you can keep them with every meal as a dessert or tea. 
We recommend you enjoy this with a delicious hot chocolate or coffee cup. It will enhance the flavor of the gingerbread even more.
How Can I Store The Gingerbread?
You can keep the gingerbread in an airtight container and store it in the fridge. It will remain good for a few days. 
Make sure that you consume this bread within four to seven days for the best results. You can also freeze it and consume it within three months. 
Can I Make This Bread A Day Before?
Yes, you can make the gingerbread a day before you want to serve it. All you have to do is reheat it before serving, and it will be as good as new.