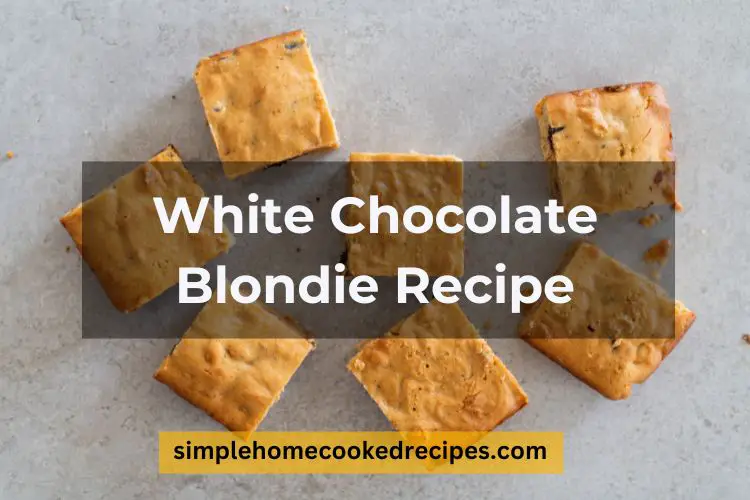 Blondies are a delicious dessert that you can enjoy with breakfast, lunch, dinner, or even your afternoon or evening tea. The blondie recipe Mary Berry is one of the easiest recipes to make that will provide delicious blondies. 
Here is a complete recipe. 
An Overview Of The Blondie Recipe Mary Berry 
The blondie recipe Mary Berry takes forty-five minutes to make. It will take you ten minutes to prepare the ingredients and half an hour to thirty-five minutes to bake the dish. The best part is that this recipe feeds sixteen people, making it ideal for parties. 
Pro Tip: You can top the blondies with melted chocolate or other spreads. It will further enhance the taste and make the blondies creamier and moister. 
Nutrition Facts
16 servings per container
---
Amount Per ServingCalories214
% Daily Value *
Total Fat 8.3g

13

%
Sodium 23mg

1

%
Total Carbohydrate 32.9g

11

%

Dietary Fiber 0.9g

4

%
Sugars 24.4g

Protein 3.4g

7

%
---
* The % Daily Value tells you how much a nutrient in a serving of food contributes to a daily diet. 2,000 calories a day is used for general nutrition advice.
Ingredients 
160g of chopped white chocolate 
150g of Stork spread
210g of muscavado sugar 
35g of almonds (grounded)
160g of plain flour 
One teaspoon of vanilla extract 
Two large eggs (beaten)
One teaspoon of baking powder
Instruction
1. The first thing you must do is preheat your oven to 350F or 180C. 
2. Then, take a baking dish of eight inches. 
3. Melt the Stork spread and line the baking dish with the melted spread at the bottom. Besides that, you should line the sides of the dish with baking paper. 
4. Take a mixing bowl, and add the entire list of ingredients to it, with the exception of the chocolate. Beat it all together till the mixture has a smooth consistency. 
5. Add the chocolate, mix it all up, and pour the mixture into the baking dish. 
6. Keep the dish in the middle of the oven and let it bake between half an hour and thirty-five minutes. You can also check if it has been cooked by inserting a toothpick in the middle. It should come out a little sticky. 
7. Take the dish out, let it cool, and then keep it on a wire rack. 
8. Once the blondies are completely cool, cut them into sixteen squares. 
Nutrient Information 
In the blondie recipe, you will create sixteen squares. Each square will contain roughly 214 calories. Here is the remaining nutrient breakdown: 
Total Fat: 8.3g
Saturated Fats: 3.1g
Sugar: 24.4g
Carbohydrates: 32.9g
Dietary Fiber: 0.9g
Sodium: 23mg
Protein: 3.4g
Frequently Asked Questions 
Here are some questions people ask about the blondie recipe Mary Berry:
Should Blondies Be Firm In The Middle?
Blondies need to have some chewiness in the middle. Such a texture is ideal, which is why you have to leave it slightly undercooked. If you want a firm texture, you can bake it for an extra five minutes. 
Why Are They Called Blondies?
Blondies got this name because they are just blonde brownies. You will notice this in the color of the brownie, as it will be light brown or beige. 
Can I Store Blondies In The Fridge?
Yes, you can. Please keep them in an airtight container in the fridge. They will stay good for a few days.