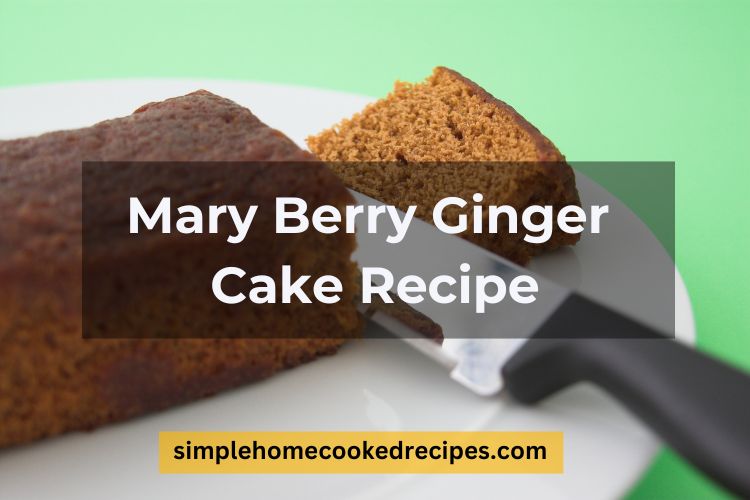 A ginger cake is a delicious item that you can have with tea during a small party. It is a light snack that you can enjoy in the middle of the night. The best part is that making a ginger cake is very easy.
If you're looking for a Mary Berry ginger cake recipe in the UK, you're in the right place. Here is a complete guide on it to help you make the best cake at home.
Overview Of Mary Berry Ginger Cake Recipe
The Mary Berry ginger cake recipe is easy to follow because of the thorough but simple instructions. You can make this without worrying about your prior baking experience. Making this cake will not cause you to spend hours in the kitchen.
It will take about 20 minutes to prepare the ingredients for the cake. You may reduce this time if you work faster than most chefs. Meanwhile, the cooking time will vary from 30 to 60 minutes.
The best part about this Mary Berry ginger cake is that it will help you with 15 to 20 servings of the cake. So you can easily feed up to 20 people by offering every person one slice.
Details
Cooking time
30-60 Minutes
Nutrition Facts
20 servings per container
---
Amount Per ServingCalories292
% Daily Value *
Total Fat 12.6g

20

%
Cholesterol 37mg

13

%
Sodium 156mg

7

%
Total Carbohydrate 41.2g

14

%

Dietary Fiber 1.2g

5

%
Sugars 22.4g

Protein 3.4g

7

%
---
* The % Daily Value tells you how much a nutrient in a serving of food contributes to a daily diet. 2,000 calories a day is used for general nutrition advice.
Ingredients For Mary Berry Ginger Cake Recipe
Softened margarine – 230 grams
Muscovado sugar – 180 grams
Black treacle – 210 grams
Flour (self-raising) – 320 grams
Baking powder – 2.5 teaspoons
Mixed spice (ground) – 1.5 teaspoons
Allspice (ground) – 1.5 teaspoons
Eggs – 4
Milk – 5 tablespoons
Stem ginger (chopped finely) – 3 pieces
Ingredients For Icing
Icing sugar – 80 grams
Ginger syrup – 3.5 tablespoons
Stem ginger (coarsely chopped) – 3 pieces
Instructions For Mary Berry Ginger Cake Recipe
Here are the instructions you should follow for the Mary Berry ginger cake recipe:
Cut a rectangular sheet of baking paper and place it on your greased traybake tin as lining
Preheat your oven to a temperature of 160C and a fan temperature of 325F. Keep the gas level at three
Add all the ingredients to a large bowl and beat them for two minutes using an electric tool. You should mix until a well-blended mixture appears
Transfer the mixture to your lined tin and level the top side using a spatula
Bake the mixture in your oven for up to 45 minutes or until the tin springs back after pressing with a finger centrally
Allow your tin to cool a bit before removing the cake from it
Let the cake cool on a wire rack and remove the lining paper from its surroundings
While the cake cools, you should prepare the icing ingredients
Mix icing sugar and ginger syrup in a small bowl until you achieve a smooth consistency
Pour icing on the cake and spread it using a palette knife
You may also decorate the cake with small pieces of coarsely chopped ginger. Remember to allow the icing to set properly before serving
Pro Tip For The Chef
Weighing the treacle can be difficult, but you can avoid issues by weighing it above a specific amount of sugar
Always use a plastic spatula for scraping the bowl's sides to use the complete mixture when baking
Also Try:
Irresistible Mary Berry Chocolate Chip Cookies Recipe
Nutritional Information
Here is the complete nutritional information of the Mary Berry ginger cake recipe:
Calories – 292
Total fat – 12.6 grams
Saturated fat – 2.2 grams
Cholesterol – 37 milligrams
Sodium – 156 milligrams
Total carbohydrate – 41.2 grams
Dietary fibre – 1.2 grams
Total sugars – 22.4 grams
Protein – 3.4 grams
Frequently Asked Questions
Here are the answers to the FAQs about the Mary Berry ginger cake recipe:
How To Make Mary Berry Ginger Cake Taste Better?
Mary Berry ginger cake can be made to taste better by freezing it. Remember you should add icing after freezing the cake when following the instructions for the best experience.
How Long Does Ginger Cake Last In The Fridge?
Your Mary Berry ginger cake can easily last in the fridge for three to five days. You must pack the item in an airtight container to preserve it better.