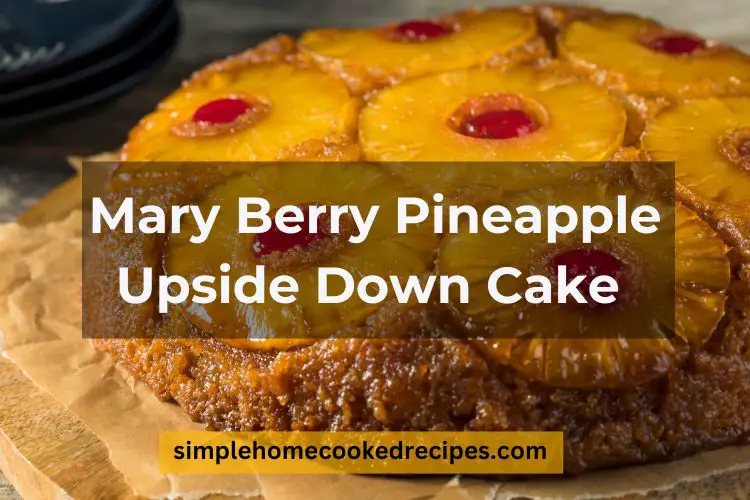 An upside-down pineapple cake is an old-time favourite dessert of many people, and for the right reasons. That is because it has a tangy flavour, it is easy to make, and it turns out incredibly moist. The Mary Berry pineapple upside-down cake is the best to create to serve as a dessert for your loved ones.
Here is your complete guide to this recipe.
Mary Berry Pineapple Upside Down Cake Recipe Overview
The Mary Berry pineapple upside-down cake recipe takes less than thirty minutes to prepare and between half an hour and an hour to cook. So, it will take you between an hour and an hour and thirty minutes to make this recipe. It will also serve eight people.
Nutrition Facts
8 servings per container
---
Amount Per ServingCalories432
% Daily Value *
Total Fat 25.8g

40

%
Cholesterol 0mg

0

%
Sodium 197mg

9

%
Total Carbohydrate 48g

16

%

Dietary Fiber 1g

4

%
Sugars 30g

Protein 4.9g

10

%
---
* The % Daily Value tells you how much a nutrient in a serving of food contributes to a daily diet. 2,000 calories a day is used for general nutrition advice.
Ingredients
250g of drained pineapple rings
235g unsalted butter
4 tbsp. of light brown sugar
175g caster sugar
3 beaten eggs
175g self-rising flour
½ tsp. Vanilla bean paste
2 tbsp. milk
A pinch of salt
1 tsp. baking powder
Instructions
Preheat your oven to 180C and butter the sides of a 20cm cake tin.
Drain the slices of pineapple and let them dry on kitchen paper towels. Then, put the soft brown sugar and 60g of the butter in a frying pan to let it melt on medium heat.
Spoon the mixture into the cake tin. Cut seven pineapple rings in half to create semi-circles that you can lay out around the tin. Then, place the remaining ring in the middle.
Cream the rest of the butter and caster sugar together until it is light and pale.
Gradually start adding eggs and mix them well as you add them. Then, add the vanilla and mix it again.
Soft the salt, baking powder, and flour inside a mixing bowl, add the milk and fold it all together until it is smooth. Then, carefully spoon the pineapple slices and make sure everything is level.
Bake the mixture for thirty minutes or until everything has risen. Insert a skewer inside the cake till it comes out clean.
Let the cake cool for a minute, and then turn it out on a plate to cool.
Serve it to your guests or family.
Pro Tip: The best way to consume this cake is when it is warm or at room temperature. Then, you can serve it with custard or ice cream for an incredible taste.
Nutrient Information
The Mary Berry pineapple upside-down cake recipe will serve eight people. Each serving will have 432 calories. Here is the remaining nutrient breakdown:
Total Fat: 25.8g
Saturated Fats: 15.7g
Sugar: 30g
Carbohydrates: 48g
Dietary Fiber: 1g
Sodium: 197mg
Protein: 4.9g
Also Read: A Silky Red Velvet Cake Recipe Mary Berry For Your Next Birthday Event
Also Read: Mary Berry Ginger Cake Recipe
Frequently Asked Questions
Here are some frequently asked questions about the Mary Berry pineapple upside-down cake recipe:
Why Is The Pineapple Upside Down Cake Soggy?
The cake may be soggy because of the pineapple slices on the top. That is why you must drain the pineapples well and pat them dry. Once you do, this will not be an issue.
How Long Will The Pineapple Upside-Down Cake Keep?
You can place the upside-down pineapple cake in the fridge, and it will last for three days. On the other hand, you can wrap it in plastic and keep it in the freezer, where it will last for a month.
Do You Eat The Pineapple Upside Down Cake Cold Or Warm?
The best way to eat this cake is warm, as it will give you an amazing flavour profile. You can pair it with cold vanilla ice cream for the best taste.