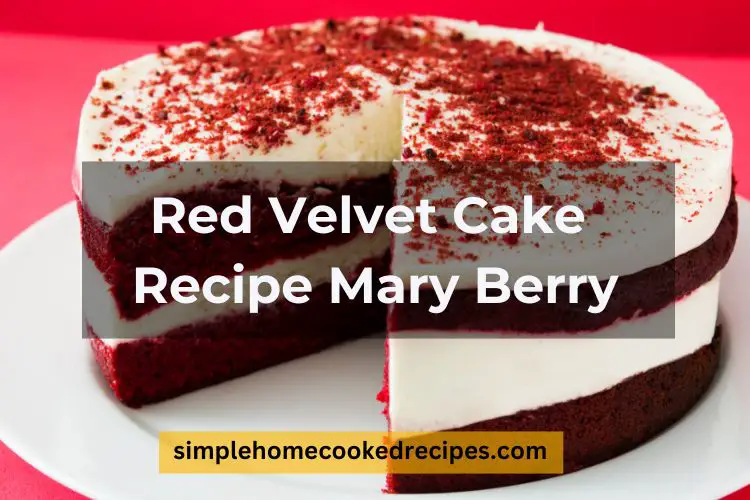 As a baker, you must always be on the hunt for new cake recipes to ensure various events go well. But, of course, chocolate and vanilla cakes have gotten a little boring for a birthday event. So instead, you can opt for a red velvet cake recipe Mary Berry for your next birthday.
Here is your complete guide to a recipe that everyone will love.
Red Velvet Cake Recipe Mary Berry Overview
The red velvet cake recipe Mary Berry will take you half an hour to an hour to prepare. Besides that, the cooking time of this recipe is between ten minutes and half an hour. The recipe will also serve eight people, making it ideal for any gathering.
A pro tip we recommend for this recipe is that you should use high-quality red food colouring. For example, we would suggest you use food colouring from Wilton or Sugarflair. These will provide you with the best results that will not compromise the integrity of your cake.
Details
Cooking time
10-30 Minutes
Nutrition Facts
10 servings per container
---
Amount Per ServingCalories602
% Daily Value *
Total Fat 38.4g

60

%
Cholesterol 0mg

0

%
Sodium 481mg

21

%
Total Carbohydrate 58.7g

20

%

Dietary Fiber 1.5g

6

%
Sugars 34.2g

Protein 9.3g

19

%
---
* The % Daily Value tells you how much a nutrient in a serving of food contributes to a daily diet. 2,000 calories a day is used for general nutrition advice.
Ingredients
For The Cake
175ml of room-temperature buttermilk
225g of plain flour
150g of softened and unsalted butter
20g of cocoa powder
225g of caster sugar
Pinch of salt
Half a teaspoon of red food colouring paste
Half a teaspoon of baking powder
One teaspoon of soda bicarbonate
One teaspoon of vanilla extract
Three eggs
For The Frosting
75g of unsalted and softened butter
300g of full-fat cream cheese
One teaspoon of vanilla extract
Three tablespoons of maple syrup or honey
Instructions
Preheat your oven to 180C.
Grease two cake tins of 20cm or 8 inches and line the base with parchment paper.
Sift the soda bicarbonate, cocoa powder, flour, salt, and baking powder.
Take a jug and whisk the food colouring and buttermilk.
Cream the caster sugar and butter together using a stand mixer until the mixture is really light and pale. This will take around two to three minutes.
Then, beat all the eggs and mix the vanilla together. Finally, add the eggs to the creamy mixture. Make sure that you mix this mixture well by scraping the bowl to ensure all of the mixture is well done.
Take a bowl, and add the dry ingredients in batches by alternating with the buttermilk mixture. Make sure you mix well.
Divide the above mixture between the two tins and bake them for twenty to twenty-five minutes.
Take the cake out and leave it to cool for two to three minutes, then leave it on a wire rack to cool.
it is now time to make the frosting by beating the butter and cream cheese together until they are smooth.
Then, add the maple syrup. Finally, add the vanilla and mix all of this until you get a smooth consistency.
If you have a cake top that is domed, you must use a long serrated knife to slice off the dome and make it level.
Place one layer of cake on a plate and spread three tablespoons of frosting on top. Then, top it with the second layer and press them together.
Use a palette knife to cover the top and sides of the cake with the rest of the frosting.
If there are any cake crumbs left, scatter them on top of the cake, and it is ready to serve to your guests.
Nutrient Information
The red velvet cake recipe Mary Berry will easily serve eight people. Keep in mind that each serving of this cake will have around 602 calories. Here is the rest of the nutrient breakdown for each serving:
Total Fat: 38.4g
Saturated Fats: 23.6g
Sugar: 34.2g
Carbohydrates: 58.7g
Dietary Fiber: 1.5g
Sodium: 481mg
Protein: 9.3g
Also Read: Mary Berry Pineapple Upside Down Cake Recipe For Beginner Bakers
Frequently Asked Questions
Here are some frequently asked questions about our red velvet cake recipe Mary Berry:
What Makes Red Velvet Cake Taste Different?
The ingredients that provide red velvet cake with its unique flavour include cream cheese frosting, cocoa powder, and buttermilk. Keep in mind that cocoa powder is used less so that you don't get a chocolate flavour in this cake. There are some recipes that also add vinegar to the red velvet cake.
The aim behind this is to help the baking soda leaven the cake. However, very few people use this technique anymore.
Why Has The Red Velvet Cake Turned Out Dry?
It is important to make sure that the ratio of flour and butter is perfect. If you have put too much flour and not enough butter, then the cake will turn out to be dry. On the other hand, if there is a lot of milk and not enough flour in the cake, then it will be wet.
So, you have to follow the recipe in an exact manner to ensure that you get a perfect cake. It should not be dry or wet and needs to have a balanced consistency.
How Do I Upgrade The Texture Of The Red Velvet Cake?
If you want to enhance the texture of the red velvet cake, then you can add one extra egg to the cake. It will help you get more density out of the cake. Besides that, you can also substitute water for milk for a richer and denser flavour.
There are different ways you can experiment with these ingredients to create a richer texture. Once you do, you will figure out the perfect texture for your cake in no time.
Why Is Cocoa Powder Added To The Red Velvet Cake?
This is not a chocolate cake, but you still have to add some cocoa powder to the cake. That is because it helps in breaking down the flour. Because of this, your cake will be much velvety, silkier, and softer.
So, make sure that you are not leaving this important ingredient out and adding it for the best red velvet cake. Following the exact recipe will give you perfect results without much effort.