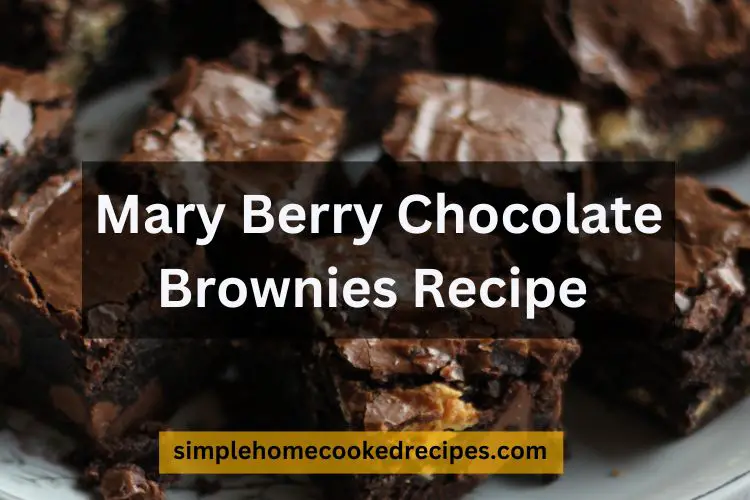 Chocolate brownies are some of the simplest yet decadent desserts that everyone can enjoy. Kids and adults enjoy chocolate brownies alike, which is why they are perfect for any dinner party or event in your home. The best part is that you can also play around with the recipe to include ingredients that you would like.
So, if you are looking for one of the most decadent chocolate brownie recipes, you are in the right place. Here is the Mary Berry chocolate brownies recipe that everyone at your home will love.
Mary Berry Chocolate Brownies Recipe Overview
The Mary Berry chocolate brownie recipe will take around an hour or an hour and fifteen minutes. Besides that, the brownies will have twenty-four squares that you can serve to your guests. If you want to make more, just follow the same recipe and use another for baking purposes.
You can make as many as you like, depending on how many pans you have. On the other hand, you can also customize the recipe by including chocolates or chocolate chips that you like. If you are making it for your kids, be sure to ask them what they want so they can enjoy delicious brownies.
Nutrient Information
The Mary Berry, chocolate brownies recipe will provide you with 24 servings. Each serving will have 193 calories. Here is the complete breakdown of the nutrients in this recipe:
Total Fat: 11.6g
Saturated Fats: 7.1g
Sugar: 18g
Carbohydrates: 23.4g
Dietary Fiber: 1g
Sodium: 77mg
Protein: 2.3g
Nutrition Facts
---
Amount Per ServingCalories380
% Daily Value *
Total Fat 11.6g

18

%
Sodium 77mg

4

%
Total Carbohydrate 23.4g

8

%

Dietary Fiber 1g

4

%
Sugars 18g

Protein 2.3g

5

%
---
* The % Daily Value tells you how much a nutrient in a serving of food contributes to a daily diet. 2,000 calories a day is used for general nutrition advice.
Ingredients
375g caster sugar
275g softened butter
75g cocoa powder
4 eggs
1 tsp. vanilla extract
100g dark chocolate chips or cut-up pieces of your favorite chocolate
100g self-rising flour
Instructions
1. The first thing you need to do is preheat your oven to fan/gas 4 or 180C/160C.
2. Take a pan of 12 x 9 inches and grease it with butter, then line it with non-stick baking paper.
3. Take a large bowl, measure all the ingredients in it and then mix using an electric mixer. Keep doing this until the mixture is blended evenly.
4. Take a spoon and put the mixture in the greased pan. You can also scrap the sides of the bowl using a plastic spatula to remove the entire mixture. Be sure to spread the mixture on the corners so that it can be level.
5. Put the pan inside the oven and let it bake for forty to forty-five minutes. You can check by seeing if the brownies have a crusty top.
6. You can also put a toothpick inside the brownies, and if it comes out clean, then it means it is cooked.
7. Cover the pan loosely with aluminum foil in the last ten minutes of baking if the mixture is too brown for you.
8. Finally, take the brownies out and allow them to cool before you cut them.
9. The brownies will turn out to have twenty-four squares that you can store in an airtight container.
Also Read: Classic Mary Berry Sponge Cake Recipe That Will Leave You Asking For More
Frequently Asked Questions
Here are some frequently asked questions about the Mary Berry chocolate brownies recipe:
Can You Freeze Mary Berry Chocolate Brownies?
Yes, you can freeze the Mary Berry chocolate brownies in an airtight container and serve them later. They will last in the freezer for three months. When you want to consume the brownies, you can reheat them inside the oven, and they will be as good as new.
However, we recommend that you store them in the fridge and consume them within three days. Storing brownies for so long in the freezer can compromise the taste of the food. Of course, you can still do it if that is what you prefer.
Also Read: Turn Your Favorite Drink Into A Delicious Cake by Following Mary Berry's Coffee Cake Recipe
How Do I Keep The Mary Berry Chocolate Brownies Moist When Baking?
Many people struggle with keeping their brownies moist as you have to follow the right guidelines. Here are some tips you can implement to make the brownies moist and soft:
Don't overmix the brownie batter
Use a pan of the right size for your recipe
Always check the temperature before you bake
Make sure the butter is soft when you add it to the mixture
Use the right type of pan for the recipe
All of these tips will guarantee that your chocolate brownies are moist and soft. Just be sure not to let the brownies bake for too long, as that can harden them.
Also Read: Master The Art Of Perfect Pastry With Mary Berry Short crust Pastry Recipe
Should I Use A Metal Or Glass Pan For Baking Chocolate Brownies?
The material of the pan will also impact how your brownies turn out to be. For example, metal pans will help you produce a chewy brownie texture because metal is a good conductor of heat. So, you will need to monitor closely to prevent overbaking.
On the other hand, a glass pan will guarantee an even distribution of heat, which means your brownies will be baked evenly. Of course, it depends on the type of texture you prefer for your brownies. So you can decide which pan to opt for.
Why Do The Chocolate Brownies Fall Apart When I Cut Them?
Patience is key to cutting the perfect squares of brownies. That is because many people are impatient, and they cut the brownies too soon once they come out of the oven. If your brownies are still warm, then they will fall apart.
Another reason could be that the structure of your brownie is weak. This means you have added less flour or you have added too much liquid or fat. So, be sure to measure your ingredients correctly.
What Knife Is Best For Cutting Brownies Neatly?
We recommend that you use a plastic knife to cut the Marry Berry chocolate brownies. Plastic is non-stick, which means that the brownie will not tear when you are slicing it.
On the other hand, the center of the brownie will also not stick to a plastic knife. It is best that you don't use a metal knife if you want to cut the brownies in a clean manner.